The overall feel of a particularly vicious episode of Black Mirror.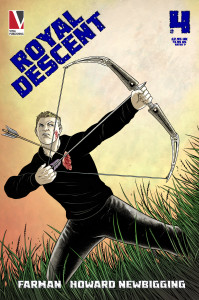 ROYAL DESCENT #4
Author : John Farman
Artist : John Howard
Cover Colourist : David Newbigging
Published by Vital Publishing
Review by Andrew Marshall
In Royal Descent, the fifty members of the extended royal family closest in line to the British throne have been transported to an uninhabited Hebridean island to fight to the death, the blue-blooded butchery screened as the reality TV contest Battle For the Crown, with the prize of becoming the country's next monarch.
The series so far has hardly let up for a moment and this latest issue is no exception, with barely a couple of pages going by without another gory and agonised killing. The arrogance you would expect of those who populate society's highest echelon is now in full display in many characters, but far more important (and interesting) is how utterly ruthless some of them are revealing themselves to be.
Mixing up the brutal violence are cutaways to TV presenters commenting on the carnage with the detached enthusiasm of sports analysts, giving events the overall feel of a particularly vicious episode of Black Mirror. They make further references to the ravaged country at large, incidental to current proceedings but offering a glimpse at the state of the dystopian hellhole the country has descended into, while also tacitly suggesting that the Battle's very existence is intended to distract the public from the realities of the doomed nation in which they reside.
Two new additions to the Battle, lottery-winning ordinary members of the public, make known the full force of their seething contempt for the royals. Their contribution is brief, but their assimilation into the combat is swift and uncompromising, even invoking Judge Dredd in the process. It's also rather telling that in a story where almost every character is an entitled noble born into wealth and influence via a society clinging to a vestigial stump of feudalism, they're the only ones so far who aren't white.
With such an expansive cast, all of whom need to be featured at some point if only to be swiftly killed, things could easily become cluttered. However, the various character threads are deftly wrangled (aided by the mounting body count), progressing each just enough to move things along, but not so much that other plotlines suffer. The kill methods maintain their streak of inventive variation (this time: cling film!) and several of the more recognisable characters have begun to get unceremoniously offed, with one death in particular being a darkly comic highlight that may well give you a vicarious sense of satisfaction.
The best issue yet of an already compelling series, Royal Descent #4 is action, satire, social commentary and black comedy colliding in a mesmerising barrage of blood-spattered brutality. Things are about to get very, very intense.
10/10.
ROYAL DESCENT #4 / AUTHOR: JOHN FARMAN / ARTIST: JOHN HOWARD / PUBLISHER: VITAL PUBLISHING / RELEASE DATE: 1ST MARCH
ROYAL DESCENT#4 – STARBURST MAGAZINE